News in: Writing and Publishing
---
Jan 14, 2022
Secret writings
I have it on good authority that some of you are lurking my site! Creeping around THIS VERY WEBSITE looking for hilarious stuff. Disgusting.
But since you're here, demanding content, I do have something for you. For the last few years I've been hacking short stories into my friend Bruce's blog! It's a series about us doing cyber-business in the year 777,777.
Maybe that will satisfy your depraved needs.
---
Jun 28, 2019
Summer forever
I'm burning the electric blanket & throwing away the sun lamps because it's SUMMER. I've started in on a new piece of writing, I'm updating the stock market game with more interesting financial events & bug fixes, and even finding time to marinate my favourite meats in specially selected balsamic vinegars. Summer is here and it's never going to end.
---
Feb 24, 2018
New stuff in the works
Didn't do a ton over the winter, although I did spend January bringing a dormant project nearly to completion. In the next month or so, I should be putting out a new free game in the same style as Diamond Find.
I also figured out what my major project will be for this year, and it's a departure from my usual. It's still going to be a comedy, but it'll draw more upon real technical knowledge than my regular cyber-fantasies. More updates later.
In other news, I'll be selling books at the Spring Geequinox again this year, April 14-15th. Come down to the Halifax Forum and take a look at Volume 2 of Snapack, just released this fall.
I'll also have a new version of wolfOS, my proprietary convention-table operating system. If you didn't see its debut at Hal-Con, it granted coupon codes to whoever could hack into its secure datavault. Maybe this year it'll have a bigger screen? I haven't done up a realistic budget yet.
---
Dec 11, 2017
A Holiday Sale
Not a lot to report re: new stuff, but now, just in time for gift-holidays, you can get all three of my books -- that is, Ghostcrime and the first two volumes of Snapback, in a bundle for just $40 plus tax. I'll even pay the shipping within Canada.
Buy buy buy buy buy buy buy read read read read read read read read read read read
---
Sep 26, 2017
Snapback Vol.2 released
The second instalment of the Snapback series is now available! It features 20 new illustrations from Dawn Davis, and, if you can believe it, even more laughs and Go intrigue than the first one.
Right now it's just in PDF, for logistical reasons (it takes less work to produce it from the print-ready PDF than an ePub) but I'll have the ePub up this week most likely. As always, purchasing the digital version gives you access to all digital formats.
---
Aug 5, 2017
Snapback for free!?
A deal as hot as my wretched workspace -- a digital copy of Snapback: Fuseki is now free when you create an account on this site!
Of course, that's just one benefit of signing up. You'll also be given free access to ghostCRM, which will help you to prevent your life from falling apart around you, and you'll be able to save your progress (and diamonds) as you play through Diamond Find, the most comprehensive diamond-finding adventure ever built. Who knew.
If those aren't reasons enough, I can't help you.
---
Jul 16, 2017
On Writing (Novellas)
I buckled down this summer and finished Snapback Volume 2! It ended up about 5,000 words longer than the first volume, and I think it's considerably better. But you'll have to wait for September to decide for yourself. I'll have copies at Hal-Con.
Writing one novella per year, I've found, is a manageable task. Even with a full-time job, I've been able to muster up the motivation, two years in a row, to produce something that's 20-25k words. It's not a lot, and in years past, I've produced far, far more.
Ghostcrime was different. I really got going in 2009, when I was unemployed, and I wrote about 40k before burning out and putting it away for half a decade. When my life stabilized, I picked it up again and wrote the second half in 6 months, producing the masterpiece that we all love. But it was a considerable effort that drained me, and in the ~7 years it took to fully produce, I had nothing to show for it until the end.
The idea with Snapback is to produce and release consistently. To always have something new to sell at the conventions, and keep improving my writing and publishing process with faster iterations. So far, it's been working. And in a few years, I'll even have something I can push together into a single volume.
What would it take me to write another novel? Money and time, probably, in large quantities. But even if I devoted all my energy to producing a novel, I don't see why I wouldn't release it in serial. There were complaints when the seventh Harry Potter film would be split up into two parts, but does anyone care that they're not a single work now? If you can watch them one after another, what's the difference?
So those are my thoughts on big writing projects. But who knows -- maybe you're more productive than me and more disciplined, and you can write a novel without having your life fall apart as you do it.
I look forward to reading it.
---
Dec 1, 2016
A Snapback Review
On the subject of events that make me feel like a legitimate author, Halifax alt-weekly The Coast just published a review of Snapback! Thanks to Adam Fiske for writing those words.
The book is available now in paperback, ePub, and PDF. And there's still a $2 discount if you buy the digital edition along with Ghostcrime, a thing I wrote that also has reviews.
Buy them for yourself, or as solstice-holiday gifts! You... do know you're obligated to spend money on people you love, right?
---
Nov 13, 2016
Snapback Vol.1 released!
Last weekend I showed up to Hal-Con with a table full of newly-minted copies of Snapback, and I tell you, did the occasional person ever stop to look at them! In all seriousness, I did move a good number, and it was a successful weekend.
But then shortly after, I succumbed to some November sadness, as is expected, and I only just got around to producing an eBook version of the damn thing. So the PDF is up here now, and if you want a physical copy, you can order one of those, too. There's $5 shipping on that link, so if you're local and just want to pick it up from me, let me know when you order and I'll reimburse you the $5. God I'm accommodating.
And as for the eBook, a deal mechanism is in place, so if you buy Snapback and Ghostcrime eBooks together, you get $2 off the purchase! I'm just throwing money away. For literacy, though.
---
Oct 22, 2016
Snapback sent to print!
It's exciting times here in the living room that has become my studio -- after months of writing and years of editing, dithering, re-working, giving up, un-giving up, etc., Volume 1 of Snapback has been sent off to print! I'll be selling it for $10 at Hal-Con in two weeks. The eBook will also be available, if I can muster up the energy to produce it.
The foundation of the story took a long time to get right, but I'll be able to 'churn out' further volumes much faster now, and publish them digital-only. Volume 2 is about 2/3rds done at this point, and will probably be available early next year.
I guess another reason I'm excited for this to be out is that I built a 'price combos' deal system into this online store last year, when I only had Ghostcrime for sale. But now, with more than one book, I can bundle them together and offer discounts, making use of carefully-written, well-tested code from last November! Why am I even a writer. It is clearly more torturous than programming.
---
Jun 18, 2016
New book in the works
I've been sitting on a novella for years, so long now that the technology the characters use seem dated. It's never been perfect, though it gets better every year, and it's always needed some art, which I am not qualified to do. The book is called Snapback , and it's about some Go-playing friends who get wrapped up in an international board game conspiracy.
Bruce Delo loved the draft I sent him, and we thought he might be able to do the images, but he's going to be pretty busy on the next volume of Kobra Stallion. If he's going to get it out for Hal-Con 2016, I can't take him away from production. It is huge. And from the script and the first 50-60 pages, there's no doubt it's going to be amazing.
Recently, though, I've been working with Dawn Davis, and she's going to illustrate! This is very exciting news because Dawn is mega-talented and I think her style really works for the story.
So, at long last, Snapback will be released. It's going to the first in a series of 3 or 4 short novellas, all hopefully adding up to the bulk of one regular-sized novel. This lets me release faster and experiment with episodic structure.
Can't wait to see you all at Hal-Con.
---
May 22, 2016
2nd edition of Ghostcrime printed!
It's not that the first edition was bad. The margins were slightly too small, so you really had to open them up to get into the middle of the page. The covers were a little dark, maybe. Wasn't a barcode on the back cover.
But this next edition. Oh man. Does it ever fix all of those problems!
Right now they're gathering a little dust in the office, but soon the first bunches are going out to local bookstores, where their new barcodes will be scanned by skeptical proprietors. I'm also putting aside a bunch for Hal-Con 2016, which I recently found out I've got a table at. See you in 5 months? I don't usually make plans this far in advance.
---
Nov 26, 2015
Actually did publish that book
I moved last month, and among the things that got lost in the shuffle, I forgot to tell you that I published Ghostcrime!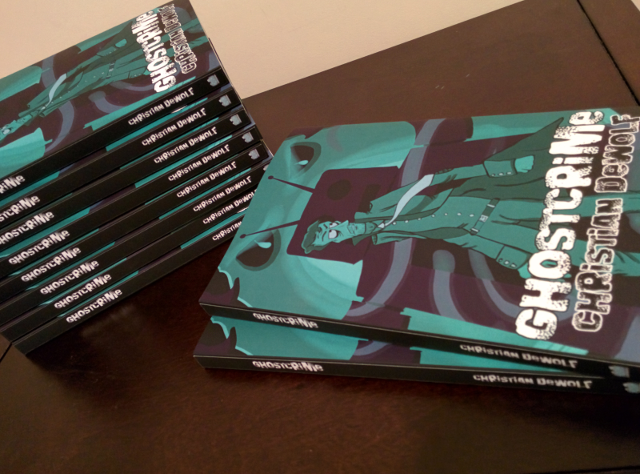 With covers and everything. I really went all out. Anyway, that was about three weeks ago, but no big deal -- kind of did a 'soft launch' and sold a pile of them at the local sci-fi convention Hal-Con. Great experience overall, though I had to pretend I wasn't a total recluse, and that was pretty taxing.
Right now, I'm building my own digital distribution system for the eBook release. The big online retailers have been taking their cut of my profits for too long, and for what? Putting my work alongside shameless erotica and crackpot memoirs? No longer. In a few weeks, I'll see if I can remember to tell you that it's done.
Until then: if you can't wait to get your hands on Ghostcrime, printed on actual paper and signed by the author, you can order a copy today! Also, I've been paying the shipping (which I probably shouldn't be doing? eh) so depending on how far away from Atlantic Canada you live, you might get a pretty good deal.
---
Aug 22, 2015
New book forthcoming
If you like your sci-fi, horror and comedy all mashed together, you'll love this new book that I've written, Ghostcrime! In just over two months, I'll have an edition printed, and hopefully an ebook shortly after. Do you feel that? It's adrenaline. Go see a doctor if it gets unbearable.
---
Nov 23, 2014
Breaking Badger News
What a week it's been! The studio has been turned upside down by the unexpected return of my old badger friend. I've got a huge list of web technologies I want to learn this winter, though, so I hope he doesn't get in the way too much.
---
Jun 28, 2014
Press to Impress
I've been neglecting the blog a bit trying to get FractalFic launched, but speaking of blogs, my friends at ClamBlog recently did an interview with me about the project. Check it out!
I should probably try to get a little more press than this.
---